BUTTONS for ORDER PAGES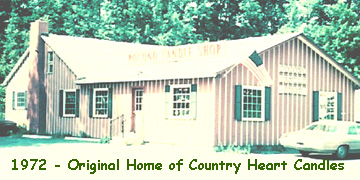 Our History
Pictured above is our first candle store
that we built in 1972.
This store is located in Eastern Pennsylvania
and is still owned and operated by our family.
Our mother retired in 2005 at age 80,
after running the business with our father
for many years.
My brother now operates this candle store.
In 1993 we expanded our operation
by building a second production center
in the State of Indiana.
There we developed our famous natural soy wax blend
in the town of Lafayette.
This is where are soy division was founded.
Our company in 2005 and in 2007 moved all production and shipping
to Western Pennsylvania.
At this time our Triple Scented Soy Blend Candles
can only be purchased
from our two newest production centers located in Western Pennsylvania.
While our original candle store in Eastern Pennsylvania
Still Hand Pours the Scented Votive Candles
and is also an official Yankee Candle Dealer.
We encourage you to try the New Soy Blend Candles
by placing an order on this website.
Orders are shipped within 24 to 72 hours.
When in Eastern Pennsylvania
please shop at our original candle store,
where you will find a large selection of gifts
and a full line of Yankee Candles.

We Appreciate Your Business

Questions and Answers

Do you sell those electric candle warmers
and can your jars be used on them?
Answer : Yes, our Jar Candles work really well with Candle Warmers.

I bought some of your Candles for Smokers and they really solved my home odor problems,
they got rid of the pet odors as well.
Could you please tell me what scent
your Smokers Candles are made from ?
Answer :
They are made with a pleasant smelling natural essential oils
(no chemicals)
that nuetalizes odors like Tobacco Smoke, Strong Cooking Odors,
Pet Odors and etc.
The exact makeup of the scent formula is a Trade Secret.
We have developed it over our 35 plus years of candlemaking.
It is a distilled natural scent from nature,
that counter reacts with unpleasant odors.

What is the difference between a hand poured Votive
and a machine made VotiveCandle ?
Answer : Machine made Votives are made in large numbers and
often just have the scent and color applied on the surface
through an over dip of highly scented wax and color.
Usually the center of a machine made Votive
is white and unscented, but a handpoured Votive is solid scent
throughout which enables it to give off more scent.

I used to sell Home Interior Candles
and have a huge customer list.
I stopped selling them because of price increases
and quality issues. Plus increased shipping cost.
Are your candles really stronger than theirs?
Answer : We know you will love our candles.
In both price and quality...many people tell us
our candles out shine Home Interior Candles.

Your potpourri tart wax melts are the strongest
I have ever tried....what do you do to make them so strong ?
Answer : Our potpourri wax melts are made from a special blend
of waxes that enable them to hold more scent.
Each of our tart wax melts are like little scent sponges.

Do you ever retire or discontinue scents
and offer special discount candle coupons for them?
Answer : We have been making candles for over 30 years
and we try to avoid dropping scents from our line.
Customers would ask us...
why we stopped making their favorite scent.
We do not want to disappoint any of our return customers.
So,we keep looking for new ones to add.

Are there stores in Vermont that sell your candles ?
Answer : People do ask us where they can buy,
our Scented Candles in their State.
At this time we are focused on selling to America
through Direct Sales on our website. This enables us
to control our quality and offer the best prices on our products.

Do you have a minimum order policy ?
Answer : No, we have no minimum. You may order as little as one item.
But remember the larger your order is the cheaper
the freight rate will be.
If your order totals a $150.00 or more the shipping is FREE.

I would like to recycle my old CandleJars
and use them for storage containers or crafts .
What is the best way to clean them ?
Answer : Fill the jars with Hot Water and add a little Oxi-clean Powder
and let sit over night. Then rinse and reuse .

Do you send out Free scent samples ?
Answer : Yes, with each paid order we include a Free Sample
of a new or seasonal fragrance .

What is the best way to try out all your different scents ?
Answer : Order a selection of our tart melts at a $1.89 a pack .

Do you ever share your Candle recipes with people?
Answer : Sorry, we do not give out that information .
Maybe we will write a candle recipe book some day when we retire .

Do you sell your CHRISTMAS Scents year round ?
Answer : Yes, all our HOLIDAY Fragrances are made and shipped
throughout the year. Our Christmas Tree Scent along with
our Pumpkin Spice and Bayberry are Top Sellers.

Do you have a live person answering email questions
or do you have an automated scripted responder ?
Answer : We always have a real person respond to email questions
and customer service requests. We try to answer
all your emails promptly.
Our Email: countryheartcandles@gmail.com
Also, you may phone us at this number:
814-756-5810

Do your candles give off more scent than incense ?
Answer : Many people tell us that our fragrances
smell stronger and cleaner when compared to incense .

What are your wholesale candle prices?
Answer :We have a Jar Candle - Box Sale
now going on. Buy 11 candles and get 1 Free.
Gift Shops and some work at home consultants
buy our candles using the Box Sale
and add a mark up to our prices.
If you sell Gift Baskets,
our candles are great to add to them.

I have a gift shop in a vacation resort area
may I resell your candles in my store?
Also, would it be alright if I remove your Logo Label
and put my Store's Logo Label on your candles?
Answer : Yes, we do allow people to put
their own Company's Name on our candle products .
Be sure to include "Burning Instructions" on your labels.
If you are also going to resell our candles
on the internet, we DO NOT allow any use of our website's
product descriptions, photos, selling slogans,
or other written words, due to Copyright issues.

From Jennifer - Vermont
I love your wholesale candles with free shipping.
Soy candles have become real popular
and I needed to add some in my gift shop.
I've ordered your Box Sale on your soy jar candles,
several times now and my customers love them.
The delivered price is a good deal for wholesale candles.
Your customer service person told me,
that I could put my own logo label on your jars.
I've been doing that and my vacation people
buy them as take home gifts.
I am so glad I found you and the customers LOVE your scents.

What is your strongest smelling candle ?
Answer : Our Super Strong Smokers Candle
that Neutralizes Bad Odors.
Not just a candle for smokers,
but for anyone who wants to eliminate odors
like pet, tobacco and strong cooking smells.
Great to get rid of any unpleasant odor!
It is also our number one selling candle .
It is available in all the different sizes.

All our candles are Triple Scented ,
but some scents do smell more bolder than others...
Below is a list of the Boldest ones as rated by our customers :
Smoker's Candle
Caramel Apple
Maple Walnut
Maple Sugar
Hot Buttered Rum
Raspberry Lemonade
Cool Waters
White Lilac
Sunflowers
Evening Rose
Hydrangea
Gardenia
Honeysuckle
Wild Flowers
Mulberry
Pomegranate
Vineyard Grapes
Pineapple
Coconut Island
Grapefruit
Spiced Peach
Spiced Pear
Hot Apple Pie
Snow Covered Pines
Christmas Tree
Our Home Sweet Home
Baby Powder
Sugar Cookie
Peanut Butter Cookie
Blueberry Muffins
Carrot Cake
Banana Nut Bread
Toasted Marshmallows
Gingerbread
Autumn Spice
Leather

The lightest smelling scents are the following...
these scents have a real fresh smell to them,
but are lighter, milder and more airy types.
Vanilla
Angel Food Cake
Clean Cotton
Cucumber Melon
Watermelon
Honeydew Melon

Thank you for visiting our Direct Buy Candle Site.
"An Award Winning Online Candle Outlet".
When it comes to Service and Discounts
we want to be your #1 Source for Quality Scented Candles.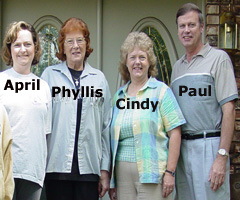 Some of the faces behind the candles
our family is ready to serve you.
Making Quality Scented Candles - Since 1972
We try to ship all orders within 24 to 72 hours.

Blessings on you and your family.

In Loving Memories of

Bruce Freeman Jr.
Stroudsburg, PA
Born March 14th, 1977
Called Home To The Lord July 22nd, 2003

David Cobb
East Stroudsburg, PA
Born July 7th, 1981
Called Home To The Lord January 6, 2004

Cindy Cobb
East Stroudsburg, PA
'Beloved wife, mother and grandmother'
Born May 9th, 1948
Called home to be with her Lord - April 22nd, 2015
Website and Contents - Registered July, 2003
Copyright © 2003 - 2050 including current year.
All Rights Reserved
www.maximumscented.com
Country Heart Candles

Need Help With An Order:
CUSTOMER SERVICE
Phone Orders: 814-756-5810

"The heart of everything we make is the Fragrance"
TRIPLE SCENTED
Soy Wax Blend with Essential Oil Scents
3X the Scent Power
"Scented to the Max"

Colors may vary slightly from batch to batch.
Returns
















We Accept:
AMERICAN EXPRESS - DISCOVER
MASTERCARD - VISA - DEBIT CARDS - PAYPAL