Best Quality at the Best Prices
$24.99 Each
Select from 160 Essential Oil Scents
3X Scent Power

ORDERING INSTRUCTIONSEnter the Quantity and the Fragrance
in the above Boxes
Next
CLICK ON the above

" Add to Basket " Symbol

to enter each Selection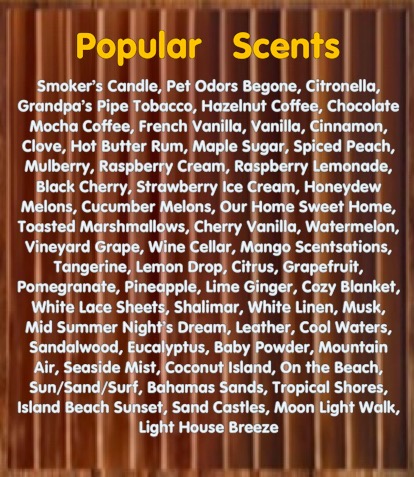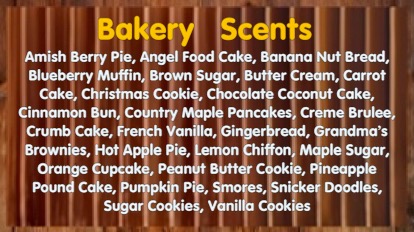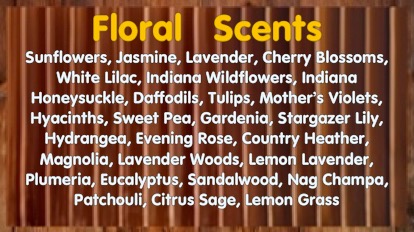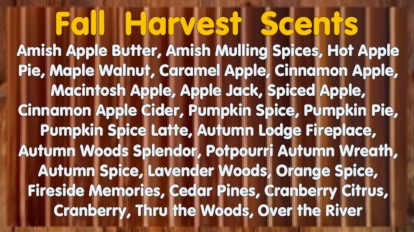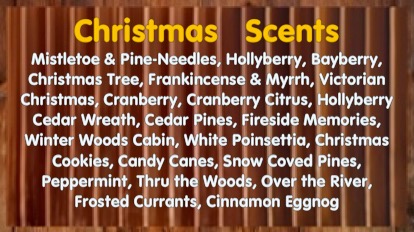 "No Minimums"
Order 1 or 2 candles
or
as many as you want.

SPECIAL OFFER
BOX SALE - Pay for 11 Jars and Get 1 Jar FREE
32oz Soy Candle Jar
Box Sale Cost: $274.89 Total - Shipped FREE
You May Mix The Scents

IMPORTANT
EXTRA STEP FOR FREE CANDLE ORDERS:

You need to first select at least 11 candles from ABOVE.
After that, please select your 1 Free candle jar
by Clicking On the "Blue Button" below:





Orders totaling over $150.00 in products
are always SHIPPED FREE.





Please Click On the above "BASKET CONTENTS" Button
to REVIEW YOUR CANDLE SELECTIONS
and to MAKE CORRECTIONS TO YOUR ORDER
if needed.






All States are Sales Tax Free,
except for Pennsylvania.

Online Discount - $24.99 Each
($29.99 Value - compared to Yankee jars in our store)
Jar Size: 32 Fluid Ounces - Wax Net Weight 26oz (737g)
Average Burn Time: Up to 200 hours


Natural Soy Blend Triple Scented Candles
Dry Volume Weight : 26oz net
Hot Liquid Volume : 32oz Liquid Wax Fill Measurement
Lead Free - Braided Cotton Wicks
Burn Time : 200 Hour Average
Approximate Dimensions : 7 inches x 4 inches

Jar Mouth Opening : (Outside - 3 1/4 inches)
(Inside - 2 7/8 inches)
This Candle Has 2 Wicks which gives it Even Burning
with NO WASTED Wax on the sides of the jar.

100% AMERICAN MADE ... This Candle is a Product of over 30 years of Making some of the BEST SCENTED CANDLES in AMERICA.

You Are Buying Direct From The Maker
"NO MIDDLE MAN PRICES TO PAY"
Online Discount: $24.99 each
($29.99 Value - Compared to Yankee jars in our store)
Our Customers Are Telling Us That We Give Them :
MORE CANDLE / STRONGER SCENTS / LOWER PRICES / LONGER BURN TIMES

SALE
Buy 11 Candles Get 1 FREE SALE
(Best Buy for those who want to try some assorted of Scents)
(Great Deal for Stores who want to resell our Candles)

Try Us Once and You will Never need to Buy
another one of those Expensive Brands.
This is a Favorite among our repeat customers...

This Style Candle Jar goes great with any Decor
from Modern to Country.
The 2 Wicks give twice the Light and causes the Soy Candle
to burn evenly with NO Wasted Wax.

This is a Great Item for that Special Person On Your Gift List.

MAXIMUM SCENTED from Top to Bottom and is available in over 160 Scents...

This Candle is Made in some of Your Favorite Floral Scents like: Sweet Pea, Gardenia, Stargazer Lily, Hydrangea, Country Heather, Evening Rose, White Lilac, Honeysuckle, Wild Flowers, Lavender, Plumeria, Citrus Sage and More. Plus this candle is Available in All the Fruit Scents, Bakery Scents, Outdoor Scents and Traditonal Holiday Scents.

Look over the Great List to choose from.
Consider adding one of our Famous SMOKERS CANDLES

to your order... THEY REALLY WORK.
Destroys Bad Odors like...Tobacco, Pet, and Cooking Smells.
Our 2 Wick Smoker Jar has 2 wicks for even burning.
200 Hour Average - Burn Time


All our Scents including the Smokers Candle are on the above

Drop Down Scent List.
CLICK ON the Drop Down " Select the Fragrance "

List to see the great selection.

We use Lead Free Wicks, the Purest Waxes and Nature's Finest Fragrances in ALL our Candles...
"You Can't Buy A Better Scented Jar Candle"


5 inch Tin Holder for this Jar Candle - $1.99 Each
Discount - Flat Rate Shipping and Handling Rates
for the 32oz Jar Candles
The larger the order - the cheaper the shipping rate.
Flat Rate Shipping and Handling Rates for these Jar Candles
are lowered even more... when combined with other items.

All Military APO orders are shipped at the above rates.

Sorry - we do not ship to Alaska or Hawaii ...
also we do not ship to Canada or other foreign countries,
except for Military APO addresses.


Thank's again for your interest in our Candles ... Try an order today.



COUNTRY HEART CANDLES
Fragrance is our heart beat

MAXIMUM SCENT LEVELS
Candles for People who LOVE Fragrances...
We put Extra Scent in Every Candle We Make.



The Triple Scented Candle Company




SECURITY
You Have Guaranteed Protection On Our Website...
Order with Confidence, Our Website is Protected and Secure...
All Your Transactions with us are SAFE and PROTECTED .
We DO NOT Store any of Your Personal Information
on Our Website .
All Tranactions go Directly to Your Credit Card Co.
for their approval .
We Never See or have Possession of
Your Credit Card Number .
Your Security is GUARANTEED
by all Four Major Credit Card Institutions.
All Credit Card Purchases are backed up
by Mastercard, Visa, Discover and American Express
with their Online Safe Guards
that protect every transaction.