Best Quality at the Best Prices
$3.99 Value

Select from 160 Essential Oil Scents
ORDERING INSTRUCTIONS
Enter the Quantity and the Fragrance
in the above BoxesNextCLICK ON the above

" Add to Basket " Symbol

to enter each Selection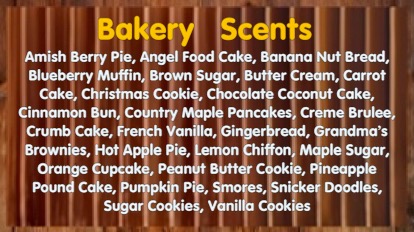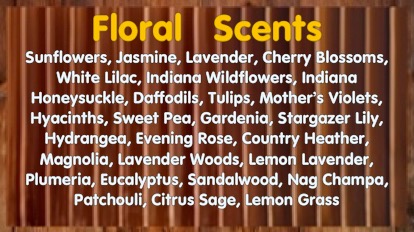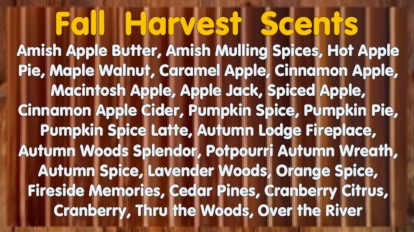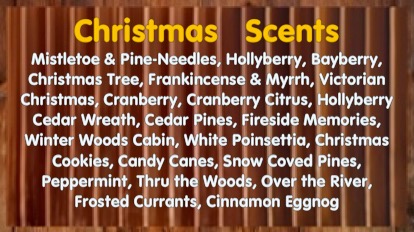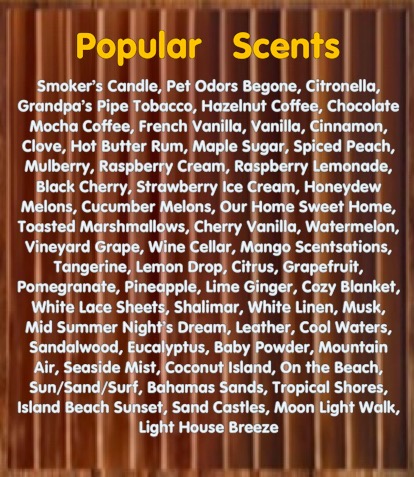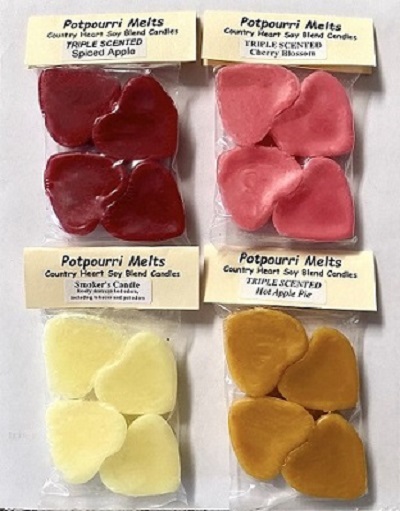 SOY TARTS - "Scented to the Ma
x"
©
To Place an Order
Enter the Quantity and the Fragrance
in the above Boxes
Next
CLICK ON the above

" Add to Basket "
Symbol
to enter
each
Selection



Please Click On the above "BASKET CONTENTS" Button
to REVIEW YOUR TART SELECTIONS
and to MAKE CORRECTIONS TO YOUR ORDER
if needed.








All States are Sales Tax Free,




except for Pennsylvania.



The Soy Difference
Super Strong and Extra Long Lasting
Over 160 Natural Scents
that will Fill Your Home in Every Season.


Natural Soy Blend Triple Scented Hearts
COUNTRY HEART CANDLES
MAXIMUM SCENTED Potpourri Soy Tarts
4 to a Package


You Are Buying Direct From The Maker




"NO MIDDLE MAN PRICES TO PAY"




Price: $ 1.99 Package of 4 Heart Tarts ($3.99 Value)

Approximate weight - 1.5 ounces

Scent Throw: 8 to 12 Hours or longer for each Tart Melt.

Soy wax tart melts with natural oil scents.


Our

Potpourri Soy Heart Tarts

are

the strongest ever!

Scented to the Max

with our stronges

t

Essential Oil Scents




They are really Super Charged with Scent Power.

Our Soy Wax Blend Melts are the strongest scented product

we make.

They are small in size when compared to jar candles,
but they have an extra amount of concentrated scent in them.


As the

Soy Blend Heart

Tart

melts

it releases its Wonderful Fragrance into the air.


MAXIMUM SCENTED throughout the entire Soy Blend Tart


No Surface Over Dips.




You will Love these MAXIMUM SCENTED Soy Wax Blend Melts


include some with your Candle Order.

Made with Essential Oil Scents.





Over

160 Scents to choose from ...


CLICK ON the drop down " Select Fragrance List"


to see the great selection...




Consider adding one of our Famous Smokers Candles to your order

THEY REALLY WORK.

All our Scents including the Smokers Candle


are on the above Drop Down Scent List.




Discounted - Flat Rate Shipping and Handling Rates for the Tart Melts
1 to 6 Packs - $ 5.90 - - - Fixed Flat Rate to all 48 States (Excludes Alaska & Hawaii)
7 to 8 Packs - $ 6.90 - - - Fixed Flat Rate to all 48 States (Excludes Alaska & Hawaii)
9 to 12 Packs - $ 7.90 - - - Fixed Flat Rate to all 48 States (Excludes Alaska & Hawaii)
13 to 15 Packs - $ 8.90 - - - Fixed Flat Rate to all 48 States (Excludes Alaska & Hawaii)
16 to 20 Packs - $ 9.90 - - - Fixed Flat Rate to all 48 States (Excludes Alaska & Hawaii)
21 to 23 Packs - $10.90 - - - Fixed Flat Rate to all 48 States (Excludes Alaska & Hawaii)
24 to 50 Packs - $12.90 - - - Fixed Flat Rate to all 48 States (Excludes Alaska & Hawaii)
51 to 62 Packs - $14.50 - - - Fixed Flat Rate to all 48 States (Excludes Alaska & Hawaii)
63 to 75 Packs - $14.90 - - - Fixed Flat Rate to all 48 States (Excludes Alaska & Hawaii)
76 Packs and Over - Shipped FREE - to all 48 States (Excludes Alaska & Hawaii)
The larger the order - the cheaper the shipping rate.
Flat Rate Shipping and Handling Rates for these Tart Melts
are lowered even more... when combined with other items.

All Military APO orders are shipped at the above rates.

Sorry - we do not ship to Alaska or Hawaii ...
also we do not ship to Canada or other foreign countries,
except for Military APO addresses.






CUSTOMER TESTIMONIALS and YouTube REVIEWS

Video From Robin - Las Vegas, Nevada



From Joie - State of Florida
I thought I would let you know how much I am enjoying
the Tarts I have ordered from your company.
I work at the Suntrust Bank in Lady Lake, Florida
and decided to make our atmosphere nice and cozy with them.
Well...you cannot imagine the comments I have gotten.
Matter of fact, most of my coworkers have placed orders.
Now many of our customers tell me they are going to buy your Tarts.
So, if you have been getting lots of orders from Lady Lake,
Fruitland Park and Leesburg area,
it is because we are all enjoying them so much at work.
And at home too, what fun we are having using all the different scents.
Thanks for making these Tarts, they are like little scent machines.
You brighten our day down here in the Sunshine State!
We all love your Country Heart Tarts.

Fragrances make people feel welcomed in your Home and Business.

From Tiffany - State of Delaware
I have always been a HUGE fan of Yankee Candles,
but because of their price increases I decided to try others.
I accidentally came across your web site
and noticed the lower price on your tarts,
along with the great selection of scents.
The price of four of your tarts are about the same as one of Yankee's.
I thought, what do I have to lose.
OH MY!!!...I recieved my order in 3 days which is very impressive.
What is more impressive is that before the tart had melted,
I could smell it through my whole house!
I have a three story home and always have a tart burner going on each floor.
Well, not any more!!!
I am so excited...today is the second day burning the same tart
and we can still smell the scent.
Thanks for making products that have lots of scent!!!
Hey...your tart recipe must really be a trade secret.
I AM AMAZED

From Emily - State of Kansas
I am a candle lover who won't skimp on quality or price.
After many let downs from big name companies,
I was happy to find your web site and placed an order.
I have always believed that soy candles are much better than regular wax.
I WAS RIGHT YOUR SCENTS BELOW ME AWAY...
Your scents are so rich they fill my whole house.
You have gained another happy customer along with my friends and family.
I am going to enjoy giving your candles as Christmas gifts.
Kansas loves your candles.

From Sheril - State of New York
Thank you so much for the great service - you people are the BEST.
On Monday, I placed my order on your website
and on Tuesday I received an email message that my order was shipped.
Thursday my wonderful tarts arrived at my front door.
My house is already filled with my favorite fall Autumn Wreath scent.
Getting an order from you is always such a treat.
I love how you send extra tart samples as little gifts.
VERY HAPPY that I found you, thanks for everything.

From dbaker - Houston, Texas
Country Heart Candles rock!
I have always loved candles and tarts.
Country Heart Candles tarts and candles are soooo amazing.
I ran across this site while surfing the web for a specific candle company.
I ordered five jar candles and several packages of tarts.
Confession... Wow! Simply divine.
The Grandma's Chocolate Brownie tarts 'are to die for'.
Takeaway testimony... I melted the Grandma's Chocolate Brownie tart at work,
and my goodness; everyone was spellbound.
Executives, visitors, staff, and children alike were all in scent heaven,
expressing pleasure of this remarkable scent.
I just could not keep people away from my desk.
The quest and atmosphere at work indescribable.
Some expressed that it smelled like mocha cappiciono,
others said it smelled like homemade brownies,
and still others said caramel chocolate cake, etc.
This magic scent spell was all over the place... it was fun to watch.
If you want to make a great lasting impression,
try the Grandma's Chocolate Brownies.
I can't wait to try some more tart scents.

From Pam - State of Maryland
Hi... I just received my first order of Tarts from you,
and I just wanted to THANK YOU for the excellent quality of your products
as well as the super fast shipping.
In addition, your Tarts are by far the BEST I have ever purchased,
and I have purchased many different brands.
I will certainly be back real Soon... for more.
And, I am happy to pass on the Country Heart Candle name to all my friends.
P.S. I love the picture of your Sheltie dog...
I have three and simply adore them... many thanks.

From Teri S - Lebanon, Oregon
I just stumbled across this place while surfing the net,
looking for some tarts.
I ordered some because of all the wonderful testimonials
and first I have to say the shipping was so quick !
I ended up ordering some really good scents
and I have to tell you that these tarts are WONDERFUL !!
I can melt them twice and they make your whole house smell.
I smoke, but I smoke outside and you can even smell the tarts from outside !!
I will be ordering more on the third of August !
Thank you for bringing me the best scents.
I will be recommending your tarts to a business that sells soy beads,
which don't do what your candles do at all.
You have gained a new regular customer.








ORDER PROCESSING TIME
Our goal is to package and ship all orders
within 24 to 72 hours.
During heavy volume periods...
orders can take longer to process.
So, please plan ahead and Order Early.
We will do our best to get all orders
shipped as soon as possible.
Due to the heavy weight of our candle orders
we do not offer Express Shipping.
Most orders are shipped by UPS.
Other orders are shipped by Priority Mail,
depending on who gives the Best Service to your area.





SECURITY
You Have Guaranteed Protection On Our Website...
Order with Confidence, Our Website is Protected and Secure...
All Your Transactions with us are SAFE and PROTECTED.
We DO NOT Store any of Your Personal Information
on Our Website .
All Tranactions go Directly to Your Credit Card Co.
for their approval .
We Never See or have Possession of
Your Credit Card Number .
Your Security is GUARANTEED
by all Four Major Credit Card Institutions.
All Credit Card Purchases are backed up
by Mastercard, Visa, Discover and American Express
with their Online Safe Guards
that protect every transaction.









The Potpourri Melt Warmer shown in the above Photo
is NOT included in the Price .
Thank's again for your interest in our Products
Try an order today .

To Go Back and Look at the other Items...
CLICK ON the words " Product List " at the Top of this Page ^

Triple Scented Candles by Country Heart Candles